Staining a deck or fence is a perfectly doable DIY project. That doesn't mean you want to do it any more often than necessary. To avoid doing this chore every year, you'll need a long-lasting stain.
Wood Stain Primer
To evaluate wood stains, CR test engineers apply two coats of stain to pine boards and place them on the roof of our headquarters in Yonkers, N.Y. We face the boards south and at an angle, like a roof, to intensify the effects of the sun and elements and to accelerate weathering.
One year of testing tells you how a stain will look after one year on your deck, or about three years of weathering on your home's vertical surfaces (siding or fences), as you'll see in our wood stain ratings.
"The sun and water beat down on a deck, snow can pile up, and even dirt and mildew spores can settle on the flat surface," says Rico de Paz, the chemist who oversees CR's tests of stains and paints. "All those issues are minimized on a vertical surface."
The worst stains don't hold up a year. The best remain close to new after three years, without fading, cracking, or mildew buildup. Some also fend off the dirt. You'll see these test results in the Features & Specs section of the ratings.
Better for the Environment and for You
Today's wood stains have to meet environmental rules that call for lower volatile organic compounds. VOCs are linked to pollution, smog, and respiratory problems, and can cause headaches and dizziness. Some may even be carcinogenic. Top stains from our tests meet these environmental standards and still look good after the equivalent of up to three years on a deck.
Arsenic and Old Decks
Before 2004 most decks were made of lumber pressure-treated with chromated copper arsenate (CCA) to fend off rot and insects. But concerns that arsenic, a toxin, could leach into the soil led to the introduction of other preservatives. If the wood in your deck is pressure-treated with CCA, the EPA recommends regularly applying a penetrating coating, such as a semi-transparent or clear stain, to help reduce the leaching of arsenic.
If your deck is made of CCA lumber and its finish is flaking, we suggest calling a pro equipped to safely remove the old finish, dust, and debris.
Prepping Under Pressure
Washing and sanding are typical first steps. If you'll be pressure-washing a newer wood deck, read instructions before getting started and cover adjacent landscaping with plastic sheeting. The pressure needed is typically 1,500 pounds per square inch; a wide-angle spray tip of 25 to 40 degrees creates a relatively broad spray that protects the wood. Angle the spray and keep it between 6 and 12 inches away from wood surfaces. For more on pressure washing, read "Should You Use a Pressure Washer to Clean It?"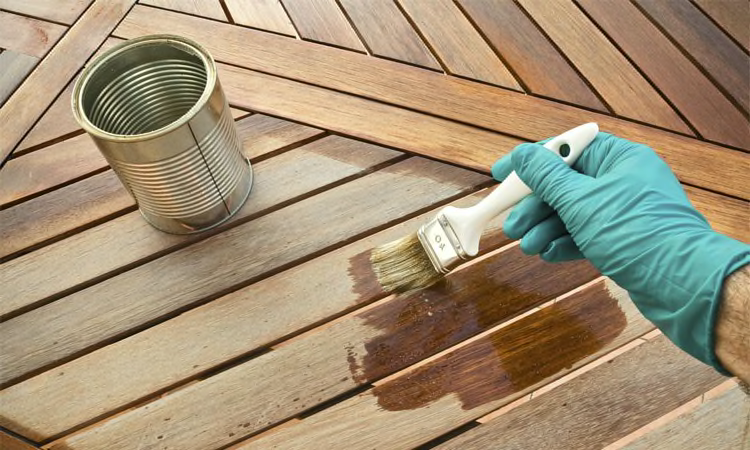 Wood Stain Ratings
Source: Consumer Reports