Pop-Tarts, waffles, bagels, English muffins, baguettes, and a nice slice of whole-grain sourdough might pop up in your toaster over the course of a month. With a toaster oven, however, you can also broil burgers or chops, roast vegetables, or bake chocolate chip cookies.
We tested dozens of toasters for ease of use (and cleaning), and how well they can toast a single slice and a batch of bread from the very lightest taupe to dark brown, recording how long it takes. We perform these tests on toaster ovens, too, along with tests that reveal how well a toaster oven reheats food and bakes. 
Check our toaster and toaster oven ratings to find the best one for your needs and budget. 
Toast With the Most
Toasters come as two- and four-slice toasters, and toaster ovens. In choosing, among the primary considerations are design, how much counter space the appliance eats up, and budget. Toasters in our ratings sell for less than $20 all the way up to $400. Toaster ovens do a lot more, so prices are higher. Tested models cost $35 to $550.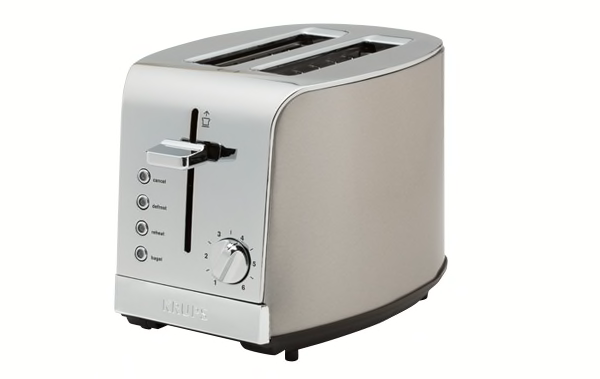 Toasters
The basics: If all you really need is your morning toast, sliced bread, or maybe a bagel, your least expensive and most space-saving option is a simple two-slice toaster.
Toasters now come in a variety of exterior finishes, such as chrome, copper, brushed metal, and colors (even floral patterns). All the toasters we tested had an automatic shutoff. A few toasters have clear sides, so you can monitor your toast (but these had mixed results for overall performance in our tests). Or if you're the impatient type, there's a countdown feature. It's worth noting that two-slice toasters outsell four-slice models.
Consider this: Retro and contemporary designs abound, as do models that look perfectly at home in high-end designer kitchens. But great looks don't necessarily equal great mechanics. Many upscale toasters we tested were middling performers.
Shop Toasters on Amazon

Toaster Ratings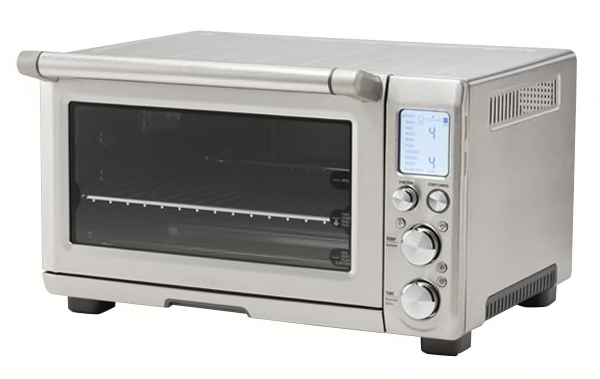 Toaster Ovens
The basics: There are two types: countertop models that entail a trade-off between counter space and capacity, and models that mount underneath a cabinet. Beyond making toast, toaster ovens can cook pizza, broil meat, roast a whole chicken or pan of vegetables, bake cookies, and reheat food. Some have a convection or can defrost food, and a few have air fryers. 
Consider this: The toaster oven's footprint on the counter is a concern if you're tight on space. The smallest toaster oven we tested has an 11-inch-wide by 16-inch-deep footprint; the largest is 23×17 inches. But the smaller the toaster oven, the smaller its capacity. And if frozen pizza is your go-to snack, you'll want a depth of at least 12 inches. Some ovens have a curved back to help accommodate a pizza, which is helpful if you have limited counter space.
Shop Toaster Ovens on Amazon

A Slice of Life
Yes, even the humble toaster is heating up, design-wise. Some very snazzy-looking toasters have passed through our test labs. Given the prominent place, this appliance has on many countertops, style is important to some. But it's not just about looks. Bottom line: You want your toaster to make great toast.
As for toaster ovens, we're also seeing new designs and innovations there, as well as some very large models. They tend to be on the boxy side, though some have fairly sleek trim and details. But again, the ability to heat items quickly and evenly should be your first requirement. We tested dozens of toasters and toaster ovens, and these are some factors to consider when shopping.
Mastering Toast
If crispy bread toasted to perfection is all you care about, you'll want to opt for a toaster. Toasters brown more evenly and consistently than toaster ovens. But a toaster oven can melt a cheese sandwich, broil a hamburger, or roast a 4-pound chicken. When they toast, though, the ovens take longer—2.5 to 9 minutes, vs. 1 to 4 minutes for a toaster on a medium setting—and leave stripes on the bread.

Crowd Pleaser
Toasting times depend on volume, so even the fastest toaster ovens take twice as long as toasters. But if you're toasting for a crowd, a toaster oven with a six-slice capacity can quickly make up for a lost time. Four-slice toasters combine the best of both worlds.
Size It Up
You'll see the dimensions of each model in the features & specs section of our ratings, along with how many slices of toast each toaster oven can fit. And if you plan to cook pizza, make sure the rack is at least 12 inches deep. (You'll see this measurement in the ratings, too.) Some ovens have a curved bump-out in the back for this purpose. Look for variable or extra-wide slots in toasters if you like to toast real New York-style bagels.
Source: Toaster Oven