If your family is like many these days, a typical evening at home might look something like this: you catching up on the latest made-for-Netflix series in the living room, one of your kids gaming upstairs, and your spouse uploading vacation photos to Facebook in the office.
A router is the magic box that lets you distribute your internet connection to a variety of devices throughout your home, including desktop computers, laptops, smartphones, tablets, smart TV sets, and streaming media devices, such as the Apple TV, Google Chromecast, and Roku.
And while wired Ethernet connections are typically faster and more secure, you're better off with a wireless connection if you want to move around your home, using laptops and other mobile devices. Wireless also eliminates the clutter that cables bring.
Here's what you need to know to go shopping for a wireless router.
Love the One You're With or . . .
If your internet service provider is your cable company, your router will plug into a cable modem, which provides your link to the internet. For other services—such as Verizon FiOS—the router may be combined with a broadband modem in a single box that your provider supplies when you sign up.
In addition to an obvious reason—say, your router is broken—you might also consider a new model because:
1. You don't want to buy or rent a router from your service provider.
2. You already have a broadband modem directly connected to a single computer but want to be able to go online with multiple devices.
3. Your router has only wired connectivity, but you want to go online with wireless devices, such as laptops and tablets.
4. Your existing router is too slow or its wireless range is too short to reach important places in your home.
Sip or Gulp: Types of Wireless Routers
The most basic decision you'll need to make is whether to get a basic router or a more advanced, more expensive router with more features and better performance.
Until recently, Consumer Reports tested and rated both WiFi 4 (802.11n) and WiFi 5 (802.11ac) routers. But falling prices for the latter have rendered the former all but obsolete. Routers using WiFi 5 are significantly faster than those using WiFi 4, especially at close range. There is no reason to buy a WiFi 4 router, especially when the successor to the WiFi 5, WiFi 6 (802.11ax), will hit store shelves soon.
The size and layout of your home will also affect performance. Before you go shopping, you should assess your house or apartment: the overall size, the building materials used, and where the router will be located vis-à-vis your media.
Drywall, plaster, and hollow doors will interfere with your router's performance; even uninsulated doors and floors can cause signal degradation. But the biggest offenders are aluminum studs (found in office buildings and modern apartments), insulated walls and floors, glass, and solid brick and stone. The more floors, walls, and windows of any kind in the way, the worse for the signal.
For more information on getting a stronger WiFi signal throughout your house, read this article.
For the Signal Sipper: Less Throughput
You have a small apartment, where the router will be just a room away, or even in the same room. Distance won't play as big a role, but you'll still want speedy throughput capabilities. In our ratings, look for a router that earns Excellent or Very Good scores for the near and midrange throughput.
Check Our Wireless Router Ratings
For the Signal Gulper: More Throughput
You live in a large house with many rooms and more than one floor. You'll want a router with a long range and strong data throughput at a distance. You should place the router in as central a location as possible. In our ratings, look for a model that earns an Excellent or Very Good score for far throughput.
Our Best-Rated Wireless Routers
Important Considerations
Router Limits
A router with top speed won't necessarily improve the streaming performance of Netflix and YouTube videos. Across any network, data only moves as fast as the slowest connection. In most cases, the slowest connection for internet traffic is the one between your house and your internet service provider.
Booster Club
You can sign up for a faster connection from your service provider if you like. Unless you pay for connection speeds in excess of 200 megabits per second (Mbps), you're unlikely to run up against the performance capabilities of most routers.
Mesh Network
If your modem is located in a far corner of your home, even a router with a lot of throughputs can't guarantee a good connection on the other side of the house. For this situation, mesh networks, which comprise two or more routers that work in unison, maybe the solution. This system improves on wireless repeaters by expanding the reach of your network without a drastic drop-off in speed. 
Frequent Houseguests or Airbnb Visitors?
If so, use the guest network, which is available with all the routers we tested. It's a second network that provides online access without you having to give guests your regular security password, giving them access to your primary network.
How Much Security Do You Need?
You should secure your router with a password using nothing less than WPA2 or WPA3 encryption. You'll normally need to enter the password just once into each wireless device you use; afterward, the device will remember it. Security is especially important if you live in close proximity to others, such as in an apartment building or a crowded urban area. Wireless Router Ratings by Consumer Reports
Features to Consider
LAN Ports
LAN ports are used to connect a computer to the router using an Ethernet cable. Many internet-connected smart home devices, such as Philips Hue and Samsung SmartThings, require a LAN port-connected hub to function. If you need more LAN ports than the router has, you can expand the number available by adding an Ethernet switch.
USB Ports
USB ports on a router are used for connecting to a flash drive, an external hard drive, or a USB printer if the router has a built-in print server.
Quality of Service (QoS)
Also called media prioritization or traffic control. If you're the type who likes to play with your computer settings, you might appreciate the flexibility this feature offers. You can optimize the router's performance depending on what you're doing at a given time. For example, you can change the settings to work best for streaming videos, making Skype calls, playing games, or streaming music. It will give those applications more of the bandwidth—so, for example, your Netflix movie doesn't pause and rebuffer because someone in your house is downloading a large file.
App-Based Management
Accompanying almost every new router are apps meant to simplify the task of setting up and making adjustments to your WiFi network. The apps make it easier than before to monitor which devices are connected to your network and adjust which devices get priority. These apps can also alert you when an update is available for your router.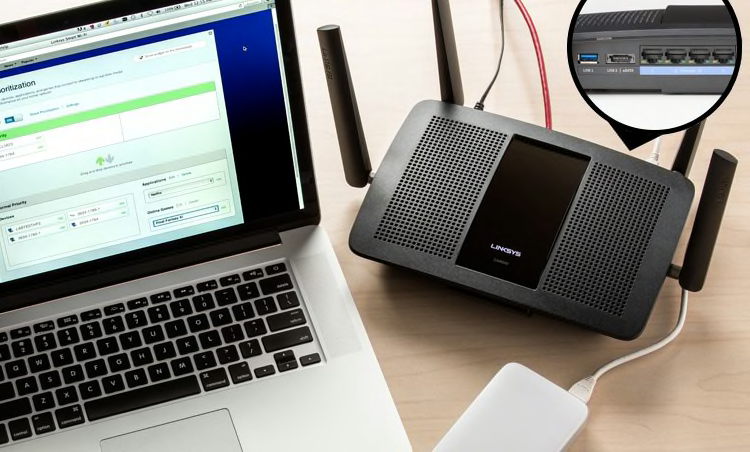 Wireless Router Ratings
Source: Wireless Router