Benefits of Bassinets
Here are some wonderful benefits of having baby bassinets in your home especially when little baby is around.

Having your baby close
After delivery, it is recommended that a mother rests so as to recover her lost strength. But even as she recovers, she still needs to attend to her newborn if he/she is to survive. Bassinets are designed to help mothers keep their babies close as they recuperate. Sure you might have your baby's room prepared for him/her, but in the first few months, you will want your baby close to you as much as possible for your peace of mind. In addition to this, studies conducted show that infants who sleep close to their parents have a lower risk of Sudden Infant Death Syndrome. With the features that many of the bassinets in the market come with, the product will feel more like a sidecar beside your bed.

Compactness
If space is your concern, you will be pleased to note that bassinets are very compact. They take up the least space in a room and some even come with collapsible features which make them more convenient for storage. They can be placed, just about anywhere in a room and you can even load it in your car and travel with it.

Safety
Being a parent, safety for your baby cannot be stressed enough. You will do anything in your power including moving heaven and earth to see to it that your child is safe and survives into adulthood right? Well, to help you in this, bassinets are designed to be little safe havens for babies. The fact that bassinets are portable means that you will constantly have your eyes onyour baby, even while you are sleeping at night. Also, the fact that the bassinets are small makes them perfect for the small size of newly born babies. Last but not the least, almost all of the bassinets currently in the market come with their very own mattress – extra firm to avoid the risk of suffocation. They are also made from sturdy materials which allow it to stand firm.

Source
How To Assemble Bassinet
Watch how to assemble a bassinet.
Features to Consider in Good Baby Bassinets
Mattress
The bassinet's mattress needs to represent a balance between thin and firm. While parents might want to opt for softness and coziness when it comes to our babies, it is not the case when it comes to a bassinet mattress. A hard mattress keeps your baby safe from suffocation.

Mesh walls
Bassinets are quite small. Given your baby will toss from side to side when sleeping, ensure you pick a bassinet with mesh sides in order to allow your baby to breathe in case they roll on the side. Also, a meshed wall allows air to flow into the bassinet keeping your baby cool all through hot seasons of the year.

Portability
Nothing guarantees safety than having an eye on your baby at all times. You will need to pick a bassinet that is easy to carry around with you. Consider one with wheels to make it easy for you to move from place to place in the house.

Storage
Babies need a lot of essentials such as toys to soothe them, diapers, clean clothes, and much more. You do not want to start looking all over the house for their favorite toy when they start crying. Pick a bassinet that features a storage basket or mesh pockets to allow you to keep all you will need within easy reach.

Rocking
A rocking bassinet is perfect when it comes to soothing your baby. If you want an extra hand helping calm your baby than pick one that rocks. Different bassinets offer varying levels of rocking, and some will offer more than one speed.

Canopy
We are sure you will not want anything to come between your baby and sound sleep. A canopy offers shade from excess light that could wake your little one. Some bassinets feature two canopies to keep away more than just light.

Additional features
Ensure you get the best out of your purchase by making the most out of the bassinet's accessories. Consider features such as a toy bar to help calm your baby and wheels to offer quick transport. One that includes sheets and a sleeping pad is also convenient.

Source
Safer Sleep for your Baby at Home and In Day Care
Here is a Safe Sleep Infographic to ensure the safest possible sleep situation for your baby at all times.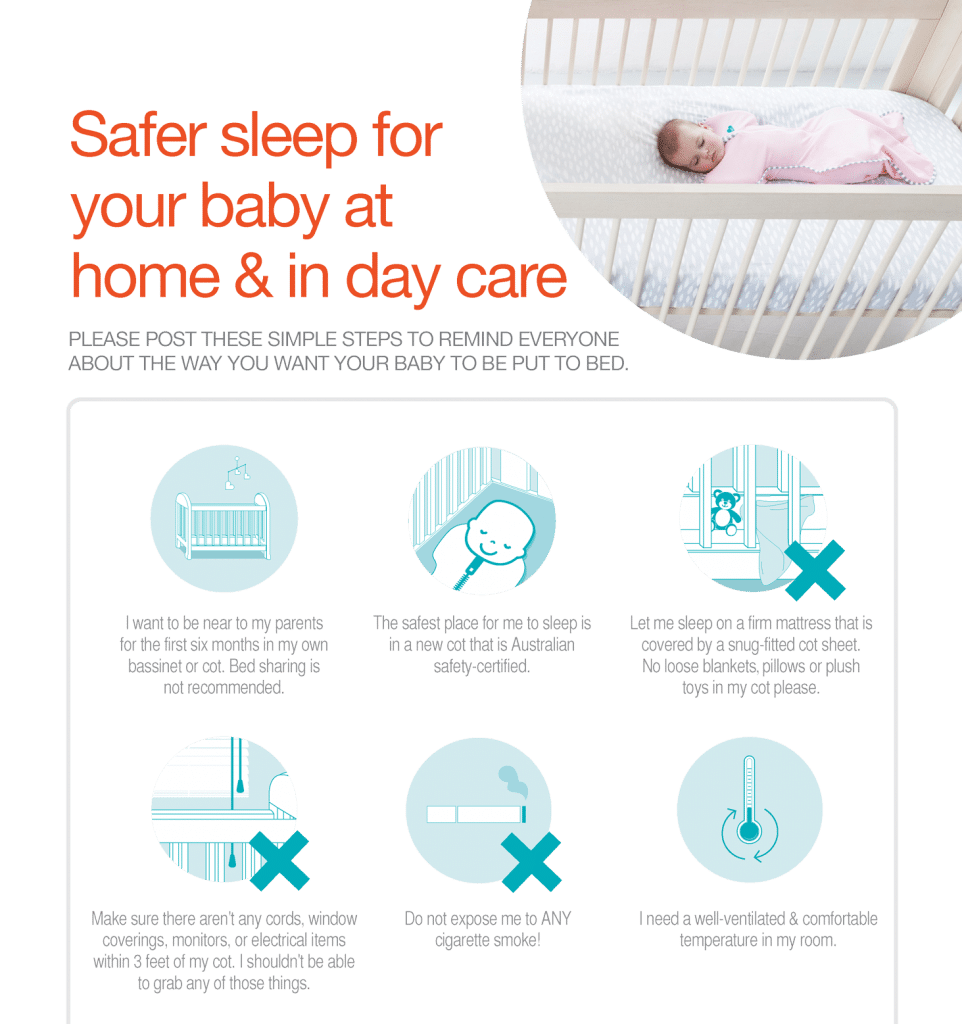 Bassinet Safety
Learn helpful tips for proper, safe use and installation of a child's bassnet/cradle with our informative infographic.