This guide has everything you need to know about Windshield Wipers.
Introduction: Best Tips Before Buying Windshield Wipers
Your vehicle's windshield wipers may not be the most glamorous or high-tech components, but they play a crucial role in ensuring your safety on the road. Whether you're driving through rain, snow, or a heavy storm, having efficient and reliable wiper blades is essential for maintaining a clear line of sight.
Choosing the right windshield wiper blades can sometimes be a daunting task due to the various options available in the market. Factors such as wiper blade type, size, material, and the weather conditions you commonly encounter all influence your selection.
In this guide, we will provide you with the best tips to consider before purchasing windshield wiper blades. By following these recommendations, you can make an informed decision that enhances your driving safety and ensures optimal visibility in all weather conditions. From understanding your vehicle's requirements to assessing the quality and materials, these tips will empower you to select the wiper blades best suited to your needs. So, let's dive into the world of windshield wipers and ensure you make a smart and safe choice for your next wiper blade purchase.
Some of us may forget that wipers are an essential safety feature until we get hit with pouring rain or need to clean the dirty glass from a dusty road.
Wiper blades eventually break down, so it's wise to choose the best that'll keep your glass clear for a safe drive.
1. Bosch 26A ICON Wiper Blade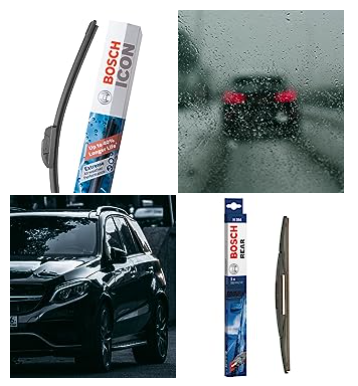 Buying replacement parts can be tricky, but Bosch has some of the highest ratings and windshield wiper reviews for their wiper blades amongst the competition. By its extremely curved design, Icon wiper blades are an ultimate option for the winter season since they are not easily affected by snow and ice buildup, not to mention its enclosed tension springs keep the blade flexible and at high performance in wintery conditions.
The Icon is a beam blade wiper that works better in snowy weather than traditional bracket style wipers but is also great for year-round use in any climate. Driving in the snow is dangerous in itself, but with wiper blades that give you clear vision, you can feel safe on the icy road with the Bosch 26A Icon wiper blades installed on the front of your car.
This 26-inch wiper blade is made of exclusive FX double rubber that resists heat and ozone deterioration, proven to be 40% more resilient than other premium wipers. After all, it's not just the constant use that wears your wiper blades down, it's also the inevitable outdoor elements that can serve as a huge factor. The protected rubber additionally doesn't absorb fluids and the polymer shell won't easily wear off while the blade remains pliable with little to no cracking.
The wiper's patented beam design equipped with a shielded connector improves your visibility even in the most difficult weather conditions. Unlike most other wiper blades, when you're driving at higher speeds along the freeway, the Bosch 26A Icon wiper's flexible asymmetric spoiler (which only Icon uses) circulates a consistent downward force along the whole blade in order to keep it stable against the windshield. As any experienced driver knows, fast speeds can lower your visibility as rain water streaks across the glass or as snow hits the glass harder and more frequently.
The exclusive tension spring arcing technology makes for a comfortable fit that contours to the curvature of each side of the windshield. Bosch makes an effort to design their blades with the do-it-yourself user in mind, thus when it comes to installation, it takes little to no effort with its original equipment-quality adapter. It also has an exclusive double locking connector for a secure and quick connection during installation.
With every wiper, the most important feature is the rubber that makes contact directly to the surface of the glass. For consistent wiping performance, the Bosch Icon wiper has a quiet glide micro-finish wiping edge to keep the weather out of your way and your visibility clear, and since the blades don't have any brackets or hinges, their design makes less noise and chatter when subjected to the wind while driving. The tension across the arc of the wiper blade allows for a custom fit across model vehicles along with a universal fit for nearly every car.
PROS
The dual rubber compound makes for clean wiping
Spring-loaded system in the wiper's frame
Spoiler included for a quieter system
Left and right curves aid in keeping wiper in contact with windshield
CONS
Streaks in winter weather
Doesn't fit every car
More expensive than competing wiper blades
Installation may be tricky if not mechanically inclined
2. ANCO Series 31 Wiper Blade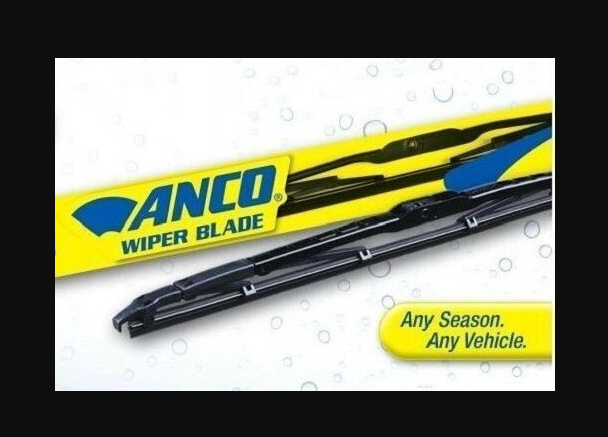 The Anco Series 31 wiper blade is the second runner-up and still a top pick because it's an ideal economical solution for high-quality wiper blades designed for all types of weather. The blades are made of an exclusive DuraKlear rubber compound that provides a consistent and streaks free wipe during poor weather conditions.
The blade is also universal and an inexpensive replacement option which comes with a KwikConnect installation system (which is one of the easiest systems on the market) for a quick and effortless wiper blade replacement, additionally with adapters that enable them to be used on most vehicles. There is an audible "click" sound when the blade is installed properly so you can be sure that the blades are thoroughly replaced.
These blades are 24 inches long but also come in other sizes ranging from 10 inches to 28 inches to allow you to find the correct size for the driver's side, passenger's side, and rear windshield. The ANCO series 31 blade's style has a bridge that's vented and flexible for a tight fit on the windshield and the high-performance polymer ensures OE fit and function.
The 31 series blade has an aerodynamic design that's highly effective especially at fast speeds. It can clear up your windshield's visibility without leaving any annoying streaks even in the poorest weather conditions. Anco recommends that you replace your wiper blades every six months to keep your blades performing at their best. They also recommend cleaning the actual blade every time you clean your windshield since built up dirt and grime can cause the blade to wear out more quickly.
The effectiveness of the Anco 31 series is above average, and if you were to compare competing wiper blades in terms of how their effectiveness correlates with their price, the Anco 31 series is one of the top blades when it comes to its effectiveness-to-cost ratio. Sometimes the best product on the market can't also be the cheapest, so there are some sacrifices to consider like quietness. The blades aren't quite the quietest around, but the noise they make can be considered average and not necessarily a nuisance.
As for performance lifespan, if you've got a tight lock on your wallet, the Anco 31 series price and level of durability are what make it such a frugal alternative to more expensive blades. You most likely can expect them to stick around for quite a while, saving you some cash in the long run.
This is an economical wiper blade that does enough to get the job done, and while it may not be as advanced and fancy compared to more expensive blades, it doesn't lack in reliability. The blade is easy to install and comes in various sizes to fit a good majority of vehicles on the road.
PROS
Installation is a breeze
Fairly cheap and lasts for around six months depending on use
Conventional support structure makes for clean and streak free wipe
Rubber quality is great which can sustain harsh conditions
CONS
Doesn't last as long as more expensive wiper blades
Constructed almost entirely of plastic
A bit noisy but pretty average
3. AERO Premium All-Season Frameless Wiper Blades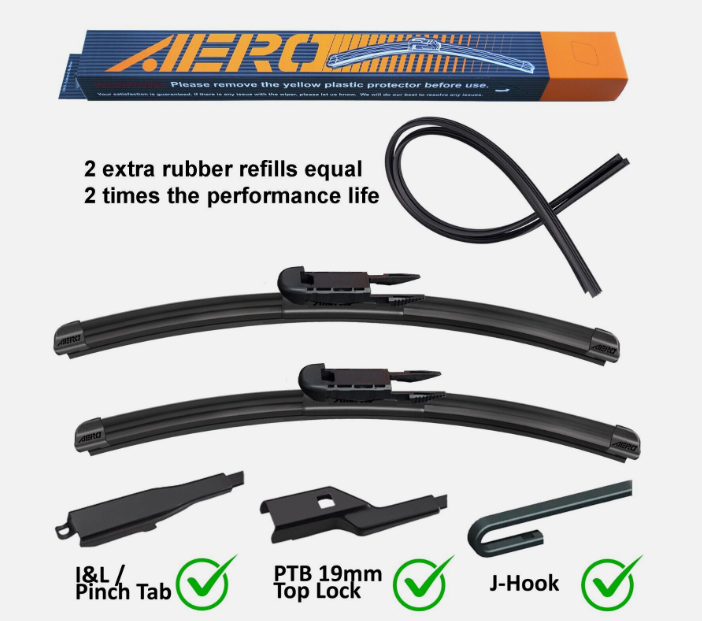 The Aero Premium frameless wiper blades are a great alternative for those with newer model vehicles for they offer all the quality and durability of major brand names for a fraction of the cost. They're designed to be a direct replacement to your original manufacturer wiper blades once they outlive their usefulness that come with a cost far less expensive than most of the competing blades. While Bosch's wiper blades are at the top of the lineup, the Aero Premium blades are considered the "everyman's" wiper blade and can be used for all seasons so there's no need to buy separate summer and winter blades.
One of the best things about the Aero Premium wiper blades is that they can fit on virtually any vehicle with its common J-hook fitment. This blade comes in sizes ranging from 13 inches to 28 inches, and as is the case for any car, it's important to know which size will fit properly before choosing. Being that the blade is frameless, this means that the Aero Premium wiper blades are solid with a rubber strip and spoiler cover, fitted with caps from both sides and a mounting support in the middle, and have an absence of hinges which can be clogged with ice.
The rubber material and design on these wiper blades make them an optimal choice over conventional type blades. Their contoured and aerodynamic design significantly reduces drag, noise, and wind lift, and the frameless beam design will also prevent them from getting stuck from built up snow on the windshield. The Dupont exclusive technology makes the specially blended rubber deliver a smooth, clean, and chatter-free wipe without sticking to the windshield during a frosty day.
While they're designed to last you a long time and keep the rubber from deteriorating, keep in mind that these aren't the most high-end blades on the market. They're extremely effective when it comes to keeping your visibility clear on the road, but they're not too notable when it comes to their lifespan, especially if you replace your original blades during the start of an especially icy winter season. Although, the company suggests that the Aero Premium wiper blades should last around a year if not constantly exposed to harsh winter weather.
In terms of installation, this blade is one of the most effortless among other wiper blades out there. It'll do the job effectively and will fight the rain, snow, and frost, and the manufacturer suggests that the blade will last up to a million wipes. Plus, they're pretty quiet so you won't have to drive in the already annoying rain with a headache.
All Aero wiper blades come with a 6-month warranty, and this blade comes with a considerate blade cover that you should make sure to take off before installation.
PROS
-40° Fahrenheit to 158° Fahrenheit temperature tolerance
Performance through all seasons
Flexible spine design that fits the windshield perfectly
Premium natural rubber and DuPont Teflon coating for clean wipe
CONS
Only fits newer model vehicles
Performance lifespan isn't that long
Rubber can detach without warning after long use
4. Rain-X 5079280-1 Latitude Wiper Blade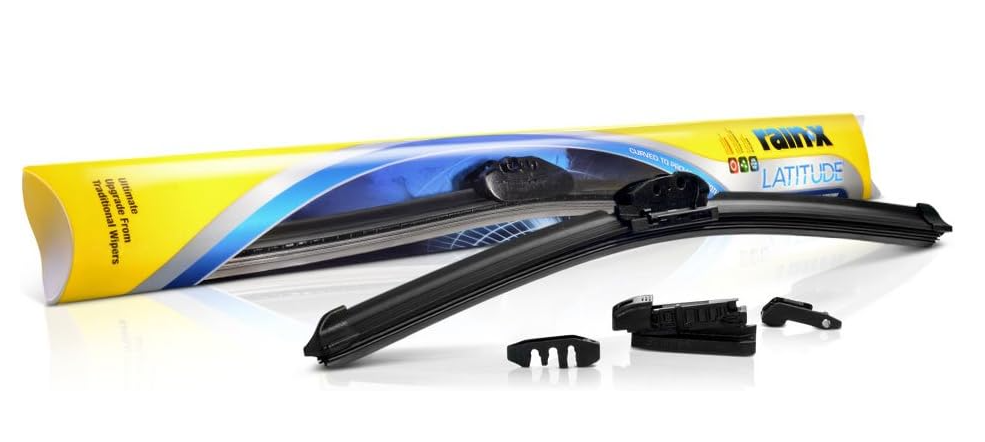 For some, their current wiper blades just aren't making the quota, so they often dig into their wallet to buy high-end wiper blades expecting them to work perfectly. Not everyone has such a huge budget, so if you're looking for the best without breaking the bank, the Rain-X Latitude wiper blade is recommended to put on your wiper blade shortlist.
The Rain-X Latitude wiper blades are specifically made to withstand the harsh weather conditions that you'll inevitably encounter during your daily commutes, keeping you and your family safe by providing clear visibility through your windshield. These wipers are known for their contoured frame and prevent ice and snow build-up through the elimination of exposed metal components which is a handy feature in the rough winter months.
If you live in a location that experiences a lot of rain and snow, these wipers might be an ideal choice. To maximize coverage, Rain-X's contoured frame ensures that the wiper blades will have the closest possible contact with the windshield as they push off rain, sleet, snow, and other obstacles that obstruct your line of vision.
For every blade, the power is in the rubber, and the smooth and chatter-free wipe of the blade is a result of the specially blended graphite coated rubber, greatly improving your driving experience reducing cloudy and streaky residue that cheaply made or worn out wipers can often leave behind and saving you a headache from loud squeaking and skipping. Rain-X's use of graphite in the rubber gives the blade additional strength and durability that keeps your windshield clean of precipitation over a long period of time, not to mention it's all weather tough for the fight against extreme weather conditions.
No one likes the hassle of installing new wiper blades, so easy installation is a must have for many. The Rain-X Latitude wiper blades come with all of the necessary installation components for a simple plug-in installation such as a pre-installed small j-hook adapter and multi-adapter for side pin, large j-hook, bayonet, I&L, and PTB wiper blade arms. Don't forget that every car is different, so you should carefully consider which size blade is appropriate for your car model. The Rain-X Latitude wiper blade comes in sizes ranging from 16 inches to 28 inches.
These wiper blades are among the most popular for they are highly purchased and used among many looking for cheaper alternatives, but before purchasing them, make sure you have a curved windshield to avoid an awkward fit. The Rain-X Latitude blades aren't as long lasting as more expensive blades as well as the possible slippage from the grip, but it's performance is otherwise more than adequate to keep you safe on the road.
PROS
Contoured frame for better hold and contact to most windshields
No exposed metal for ice and snow buildup prevention
Strong and durable graphite coated rubber blade
CONS
Doesn't last as long as more expensive blades
Wiping is adequate but could be better
Wiping strip can potentially slip off at high speeds
5. Michelin 8026 Stealth Hybrid Windshield Wiper Blade


This is a wiper blade that primarily likes to keep its users happy, unlike a large majority of other windshield wipers that only seem to focus on satisfying a specific demographic. This group usually relies on blades that can deal with contact with a large amount of snow or have cars that aren't very compatible with a diverse variety of other wiper blades.
The Michelin Stealth Hybrid certainly performs at an above average rate, for you'll find that it can clear rain, snow, or dirt off your windshield with its sleek and aerodynamic blade. Its smart flex technology adapts to your windshield's curve for a long-lasting performance even in the harshest weather. The blade is designed to prevent any debris like ice and snow from clogging, keeping your visibility clear and you and your family safe while driving.
You'll also find that the blade doesn't jam or "bounce," which is common when a wiper blade wipes across frost on a windshield. This is because of the outer layer of the blade that acts as a guard, preventing ice from affecting its capability. It's also due to the blade's independent suspension which adjusts to your windshield's shape for close contact from end to end.
The Michelin Stealth Hybrid operates pretty quietly, whether you're wiping away rain, snow, or dry dust. It's not the absolute quietest, but you'll certainly find it less noisy than your average wiper blade so you can save yourself being irritated the rest of your rainy commute home.
It holds up very well after long periods of use whether you regularly use it or occasionally use it. Along with its high level of effectiveness, its durability is mostly achieved through its outer layer. There are plenty of manufacturers that have their blades' metal pieces stick out in order to let the metal soak up more damage for the rest of the blade, but this often leads to rusting after a certain period of time. This isn't the case for the Michelin Stealth Hybrid though, for independent tests show that after 300,000 wipe cycles, Michelin Stealth wipers outperform all industry competitors.
There are certain blades out there that literally click into place, but there aren't a lot of similar blades that are easier to install than the Michelin Stealth Hybrid. The initial installation is effortless due to the EZ Lok connector system for quick and easy replacement. It additionally comes in sizes ranging from 16 inches to 28 inches to make it easier to find a blade that will fit your car properly.
Overall, the Michelin Stealth Hybrid is a well-rounded blade that's reliable under many weather conditions you'll face, and while it's better for fighting snow, it's also ideal in warmer climates where dust and mud are involved.
PROS
EZ Lok connector makes for easy installation
Can adapt to windshield curve for better blade to glass contact
Design prevents clogging from ice, snow, and other debris
Quiet operation
CONS
Rubber cover is a bit flimsy
Some sizes may not have proper mounting
Performance depends on the car; blade-to-wiper contact varies
6. Trico Exact Fit 14-B Rear Integral Wiper Blade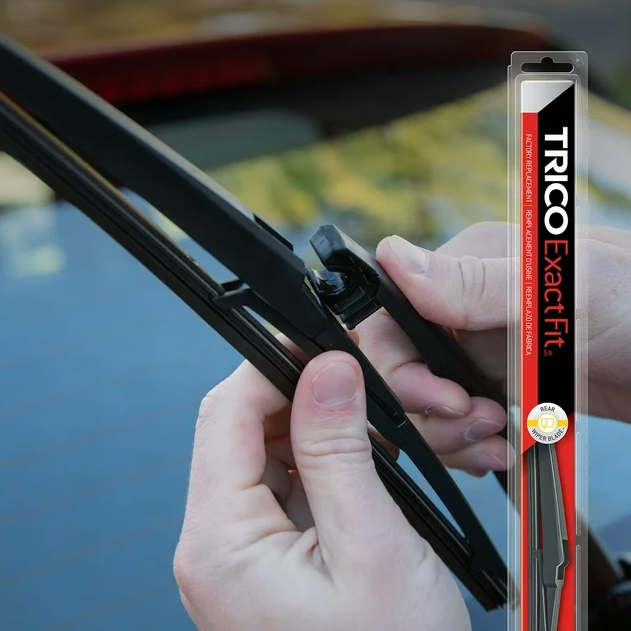 The rear of your car can easily be overlooked and many often forget that there's even a windshield wiper back there, but that doesn't mean that it should be left neglected, especially for those times when you'll definitely need to see clearly behind you in the worst of weather conditions. Clear visibility in the rear of your car is just as important as clear visibility in the front, and the Trico Exact Fit rear wiper blade is great for those that like more traditional wiper blades and don't have a particularly curved windshield. This wiper blade makes it easy to restore your car to its original factory quality, saving you the frustration of finding blades that end up not properly fitting your car's make and model.
It's made to last you a long time with its resilient metal construction and contoured performance at a fraction of the cost compared to competing rear wiper blades. Wiper blades can have a tough time even when it's not raining since the sun can cook and misshape them, deteriorating the rubber and eventually making them ineffective for wiping away grime and water. The Trico Exact Fit rear integral wiper blade allows for maximum contact with the windshield while its all-metal construction gives the blade it strength and durability.
The blade is designed to easily install into your windshield fitting without any adapters or modifications, which is highly convenient especially for those that aren't too mechanically inclined. This blade is preassembled so that it matches the arm style of your vehicle's model and uses advanced wiping features that give this blade the durability it needs to offer you exceptional wiping performance.
Its conventional blade design makes it a practical choice for older cars with non-curved windshields, and it fits the Roc Loc 3 arm nicely. Whether you're driving in the rain, sun, or snow, the Trico Exact Fit rear wiper blade is built for all types of weather thanks to it being protected with high-strength polymer shell safeguards.
This blade is 14 inches long, but it also comes in sizes ranging from a small 8 inches to a wide 29 inches, and while this blade is in a conventional design, it's also available in beam and hybrid styles.
Because this is a rear wiper blade, the installation may be a little tricky, but it should be as simple as removing the wiper arm and placing your new blade. Just lift the arm away from the rear windshield, and then the blade will point backward. The movable part of the blade should be turned counter-clockwise away from the arm until you can't anymore, and with a little strength, remove the whole blade when the small crossbar in the middle of the blade slips out from the clip on the blade arm.
PROS
Solid quality at a low price
No additional adapters needed during installation
Pre-assembled to match specific arm type with exact O.E appearance for domestic and import vehicles
CONS
Frame is a bit thin but doesn't completely effect performance
Refill won't fit properly if assembly has been replaced with anything other than OE product
Not recommended for curved windshields
7. Valeo 900221B Frameless Wiper Blade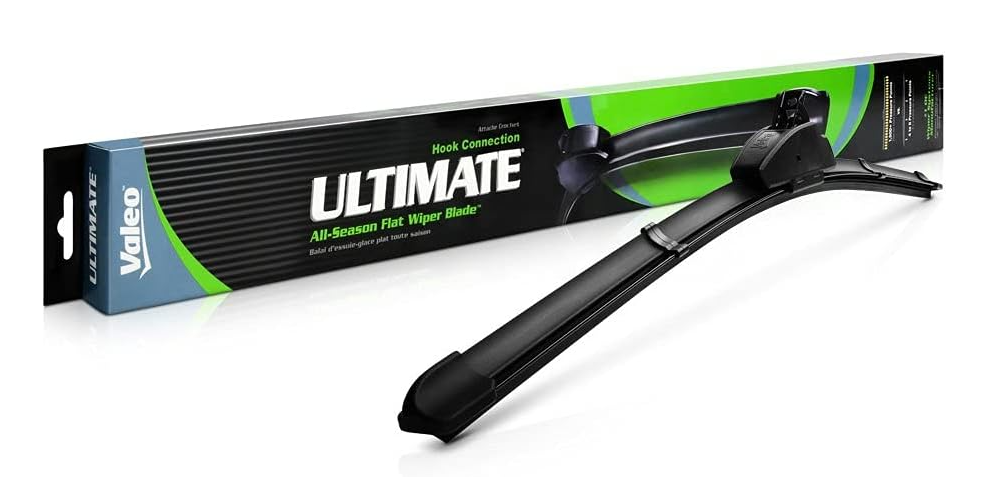 The Valeo 900-22-1B frameless wiper blade has a sleek style designed to endure all seasons and are a reliable alternative to more expensive blades. You no longer have to worry about clouded visibility through your windshield in bad weather since this wiper blade can be used in times of pouring rain, heavy snowfall, and dusty winds. Snow and ice buildup is especially not an issue since there isn't any metal structure that accumulates these buildups, which makes frameless blades a more popular option for those that regularly commute in poor weather conditions.
In times of strong winds, these wiper blades work well not to slip off due to their revolutionary flat design that structured as a single piece of rubber unlike other similar blades which have two pieces of rubber attached to each other, and this provides better blade-to-windshield contact. With its best-in-class aerodynamics attributed to the integrated spoiler, this allows for a high-speed performance to keep you vision clear and debris out of the way.
When the blade wipes, its new Tec3 advanced rubber technology makes for a quiet operation since the blade's enhanced aeroacoustics reduce wind noise up to 3dB and it also results in a longer performance time.
The Valeo 900-22-1B wiper blade's 1,500 pressure points allow for more even and consistent pressure to be applied throughout the entire blade so that it can cover a large amount of surface area and clean the windshield evenly and effectively, unlike conventional style blades which only have four to eight pressure points.
With this pressure distribution, there is no virtually no vibration or chatter. Moreover, the air pressure on the spoiler and ultra-flat design improves the blade's contact with the windshield which is a great feature for those who regularly drive at high speeds along the freeway.
When it comes to installation, the great thing about the Valeo 900-22-1B is that there is no adapter needed making for a quick and effortless replacement. This wiper blade offers an aftermarket upgrade for conventional design blades equipped with a hook arm installation. Not every car is the same thus it's important to know which size is best for your vehicle model. The Valeo 900-22-1B comes in a 22-inch size while the whole Valeo 900 series comes in sizes ranging from 15 inches to a wide 29 inches.
A leading consumer magazine rated the Valeo 900-22-1B one of the top-performing blades available on the market that fits most domestic and import vehicles. It's definitely an ideal option if you're expecting to drive in all kinds of weather and is a safe choice due to its tight blade-to-windshield contact and smooth quiet performance.
PROS
One piece rubber blade design is easy to install
Wipers glide smoothly with little to no noise
Work in all types of weather, not just snow
CONS
Installation directions are vague but comprehensive
Pricier than other cheaper alternatives
Attachment clips may not fit certain cars
The blade contains a few sharp edges that can potentially cause injuries if not careful
Windshield Wiper Buying Guide
Although it can be easily overlooked, it's highly important that you buy the right kind of wiper blades for your car and that you replace them promptly after they've reached the end of their use. It's very common that someone walks into an auto parts store, picks up any random windshield wiper, and walk out without thinking much about it, only to find out that the random wiper blade isn't compatible with their car at all. To make sure this inconvenience doesn't happen to you, consider these tips and details for the next time you need to replace your wiper blades.
How Do I Know If a Wiper Blade Will Fit My Car?
Not every car's windshield is the same size, which is why many have a difficult time finding the right wiper blade that isn't too wide or that isn't too small. Online auto part vendors usually have a searchable database that can figure out if the blade you pick will fit your car's model to save you from buying blades that frustratingly can't be installed. You should also keep in mind the individual parts and components of a wiper blade because some of these details could come into play for whether it will or won't fit on your windshield.
When Should I Replace My Wiper Blades?
Most of us don't think about out wiper blades too much until we see that they're on the verge of falling off. You should inspect your blades at least once a month to check if they've gone through any significant damage and replace them every 6 months depending on how often you use them. If you frequently use your wiper blades because you live in a rainy or snowy location, try to look out for the following early signs that let you know to replace them.
If your blades make a chattering or scratching noise during operation, are leaving streaks or unwiped areas on the windshield, or you notice that the blades are worn or torn upon physical inspection, perhaps it's time to replace your blades. Also, it's best to replace your wiper blades in pairs, even if one of the blades are in better shape than the other.
It's very important that you promptly replace your blades since worn blades can lead to a higher risk while driving. Reduced visibility will lead to unsafe driving making it a hazard for yourself and others around you. Deteriorated blades can also easily scratch up your windshield which can result in dangerous cracks that can cost a lot to fix.
Types of Wiper Blades
When you're planning to replace your wiper blades, it's helpful to know what options you have to make sure you buy blades better suited for your needs. The wiper blade itself is the main piece of your windshield wiper. It's almost always made of rubber and is the part that makes direct contact with your windshield.
Over time, your wiper blade will inevitably crack and tear due to heat, cold, and other elements, so if you're looking for a durable blade that will last you at least half a year, you should consider a blade that uses different types of rubber or rubber compounds. The stronger wiper blades are often infused or coated with different materials and are better designed to resist harsh weather conditions.
There are three main types of wiper blades to keep in mind: conventional, beam, and hybrid.Conventional blades are flat and straight in design with a cross section metal frame and a thin rubber strip, and they are pretty effective at pushing debris off a windshield. Be wary though, especially if you have a newer car. Newer vehicles often have curved windshields to better limit wind drag, so curved windshields require a wiper blade that contours to its shape. Traditional windshield wipers are rigid and not very practical for curved windshields, and they'll constantly get stuck to the windshield during harsh snowy weather.
Beam blades have a curved design which helps them to better conform to various windshield shapes and prevents sticking during snow and frosty weather. You'll also find that beam blades last longer but are generally noisier than conventional wipers. Unlike conventional blades, beam blades do away with the crisscrossing metal frame that conventional blades use for support. Beam blades use a flexible steel beam internally instead.
Hybrid blades are basically a combination of both conventional and beam blades. They're mostly straight with a slight curve and use a modified frame. They're less noisy than beam blades and more effective than conventional blades.
Other Types of Wiper Blades
Apart from the 3 main types of blades, there are also specialty wiper blades that are designed for specific seasons or uses.
If you live in an area where it regularly snows and you experience rigid temperatures, heated wiper blades can make a huge difference between being able to see the road and driving completely blind. Heated wipers help reduce ice and snow buildup, which will maximize visibility and make for a safer driving experience. There are some wiper blades that feature a heated squeegee and frame that melt snow and frost on contact.Winter wiper blades can serve to be quite the upgrade for drivers that plan to brave the unforgivable winter weather since they have additional advantages that are specifically suited for such conditions. For example, Anco's winter blades are covered in a shielding rubber shell which allows for the framework to stay free of both snow and ice. Features like this are what plays into a winter wiper's durability.
Silicon wiper blades are another type of blade that use patented silicone technology that gives them unique features for fighting poor weather conditions. They often have a high resistance to oil, ozone, sunlight, and other grime, and they also have the ability to endure extreme heat and ultraviolet radiation. This makes it harder to crack, tear, or deteriorate, and silicon blades rarely lose their shape under said conditions.
Additionally, silicone has hydrophobic properties that repel water for a clear view and can withstand extremely cold weather, ultimately preventing them from freezing and getting stuck.
Connectors
It's very frustrating when you can't properly connect your wiper blades to your car's fitting, and this is mostly due to the blade having the wrong connectors for your car's make. Most wiper blades come with what you need to install it to your windshield, and many come with various attachments for fittings that are uncommon. For older cars, there are three connectors for more traditional wiper blade devices.
Hook connectors have a curved shaped hook that goes around the blade. Bayonet connectors have a flat and square piece of metal that slides into the wiper blade attachment. Side pin connectors have a small pin on the wiper arm that connects the wiper arm to the blade.These kinds of connectors are better for older cars since traditional devices have a rubber blade at the long end of a flexible metal frame, unlike new cars which use a new type of blade technology. Beam blades are ideal for newer cars, and they're made almost entirely of plastic with a triangular frame. The frame and the blade are thinner and more aerodynamic, so they're able to make tighter contact across the windshield. If you have a newer car, the following connectors are more ideal.
Balanced bayonet connectors have a clamp on the arm that fits into place on the blade. Pinch tab connectors are designed to have the blade move into position and is released through pressure applied to both sides of the arm. Lastly, a pin and hook connector is made up of a small pin that fits into the wiper arm, where a hook holds the pin in place.
Installation
A lot of car owners take the time to replace their old wiper blades themselves, and while some may plan a day to replace them in their garage, sometimes replacements can be spontaneous, forcing drivers to replace them outside exposed to the elements like rain or in the dark. Along with likely not having tools on hand, having to awkwardly lean over their car to reach one of the blades, and the effort that needs to be made to make sure you don't scratch up the paint, it then becomes apparent that convenient installation and replacement is important.
Because not all cars are the same, there are different mounting methods. Wiper blades with a hook mount (which are popular) are generally simple to remove and install. You just put the arm through the slot in the blade bridge, line up the adapter with the hook, and push it in place. Some blades make a "click" sound to let you know that it's locked into place.
Most wiper blade designs don't require any tools to install and remove them, but for some you might need to pry a tab loose with a screwdriver. You can also carefully use a hammer to tap off the wiper blade to avoid the risk of stabbing your hands.
Conclusion
Before you replace your next wiper blades, make sure you know which size and type of blade to get so you have an easier time installing them. Whether you have an older car or a more modern vehicle, wiper blades don't work the same for everyone, thus you should consider many factors that go into a wiper blade that'll either make or break its performance. According to many windshield wiper reviews, the Bosch 26A Icon wiper is one of the best windshield wipers, the other alternatives are also very effective and perform great even in the worst weather.
Source: https://agreatpick.com/7-best-windshield-wipers/